Online training and live projects
IDMI is the best online digital marketing institute committed to providing exceptional Digital Marketing training under the guidance of the best Google Certified Trainers. Over the years, IDMI has transformed 100+ batches into Digital Experts that have acquired placements in Multinational Companies and leading organizations.
Online Digital Marketing Courses With Internship

Advanced Digital Marketing
Digitally transform your career with the Advanced Digital Marketing Course. From scratch to advanced, master every concept of Digital Marketing in just 75 days. With immense practical exposure, gain knowledge, build your skills and master all elements of digital marketing.

Diploma in Digital Marketing
Ideal for aspirants who wish to hold a professional diploma in Digital Marketing. Accelerate your career and learn digital marketing insights, techniques and skills from industry experts. This 2-month course can help you acquire the skills you need to succeed in the digital marketing world.
Crash Course in Digital Marketing
Improve your digital marketing knowledge and upgrade your skills with this short term course that gives you the perfect start in the digital marketing industry. Build a strong foundation for your future in the digital world with just 1-month of training in the best digital marketing training institute in India.
Diploma in E-business​
A short-term diploma designed to help you gain expertise in
E-business. Get an unrivalled insight into developing an online business right from scratch. Discover how to expand business potential and maximize its efficiency.

Certificate Course in Social Media Marketing
Get set to rule the social media world with the Certificate Course in Social Media Marketing. Learn brilliant strategies and get a unique insight into Social Media Marketing. Utilize Social Media platforms to promote a business, increase reach, drive traffic, run promotional campaigns and more!

Digital Delight
An innovative 5-day digital marketing workshop designed to give a brilliant insight into Digital Marketing. Discover the digital marketing field, explore opportunities and get started on your career in the digital world.
Our proud partners with a placement record
Gain internationally recognized certifications
Our Team
The perfect blend of creativity and expertise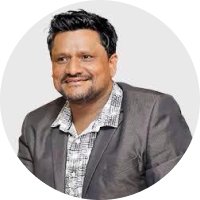 Srinivas Sarakadam

CEO & Founder
His strategic thinking and analytical mindset proves his powerful prowess in the Digital Media World. His passion for teaching and Digital Marketing has encouraged him to start his Digital Marketing Training Institute in India
Akhil Agarwal

CMO & Director
A young and dynamic Marketing Individual who is an expert in all marketing nuances. With his smooth and efficient way of organizing and troubleshooting, he is a great asset to our digital marketing Institute.
Raghu

Digital Marketing Trainer
Raghu Gaddam is an entrepreneur and leading digital marketing trainer and social media marketing expert. With 15 years of experience, he trains students and helps them build their digital marketing knowledge and work on performance-enhancing marketing techniques to achieve the best results. He offers expert training in all digital marketing domains including SEO, Social Media, Email Marketing, LinkedIn Marketing, Digital Analytics and more
Rajkumar Mushkara

Guest Speaker
Devising and implementing powerful digital marketing strategies, Rajkumar Mushkara is a Digital Marketing expert with an expertise of over 10 years. His creative learning techniques have helped students master advanced digital marketing concepts with ease.